Linking up with the Share Your Style party has got me thinking....just what is my style? I've always simply liked what I like, and that has lent itself to a broad style base. So, I asked Hubby what he thought. After he finally got over trying to figure out why, he did some thinking, and came back with "pink monograms". Not exactly what I was looking for, but he does have a point. If I can find a way to put a monogram on something, I'm going to :) and a lot of those tend to be pink.
So this week's post includes my favorite personalized gift ideas. (Bear with me as I've already shared some of these individually, but hey, they're my style....)
Personalized Wedding Bowls
(
H Shadron Pottery
)
Hubby and I received one of these beautiful, handmade bowls as a wedding gift, and absolutely love it! She is not just limited to wedding bowls, however, and also has baby plates, celebration bowls, and limited editions.
I have to admit, I adore silhouettes, too, so this is a double win! Our Koumbara and her mom gifted Hubby and I with our own. It makes me smile each time I see it. I have ordered prints from Elaine myself and it's a delight to work with her.


Handwriting Bracelet
(
bigEjewelry
- Etsy)
This gift would be especially wonderful for a mom with her little one's handwriting, for a wife from her hubby, or to use the handwriting from a dear love one who has passed. She has many different offerings in her shop, not just bracelets.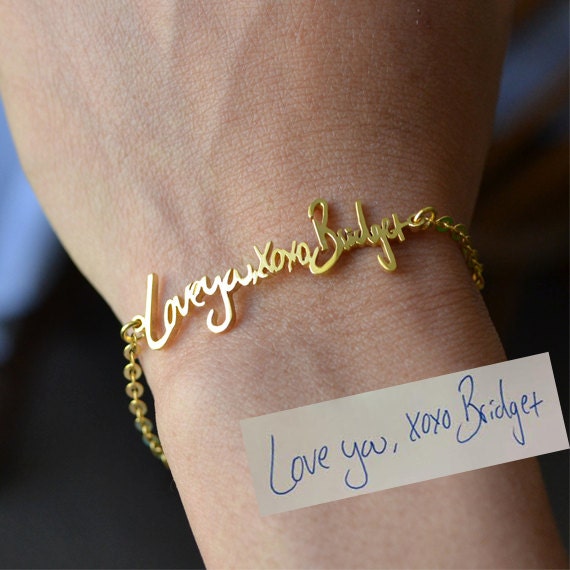 Personalized Home Painting
(
CarolePooleGallery
- Etsy)
I have always loved this idea, and secretly would love one myself. (Hint, hint, Honey....Although do you think she could paint the landscaping vision in my head instead of the reality?? Ha, ha.) But seriously, you send the artist photographs of your house, and this is the end result.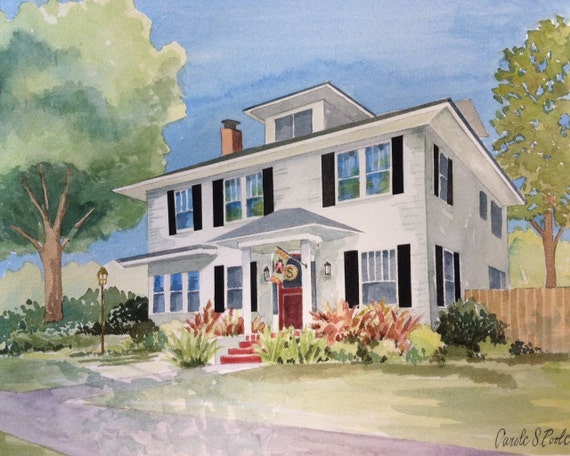 Of course some of my favorite items to monogram are tote bags, purses, cosmetic bags, etc. I love the variety of colors Lands End offers, as well as the durability of the bags.

Steak Brand and Cutting Board
(Williams-Sonoma)
Every time I see this in the Williams-Sonoma catalog I think, "Does anyone really use this?" But secretly, if I'm being honest, I think it's really cool. I also think it's a great gift idea for the grilling man in your life.
Recipes
Finally, one of my very favorite gifts I have ever received was a cheesecake recipe along with the pan in which to make it. It was a recipe passed down to her for her wedding and she gifted it to me for mine. It is a cherished recipe and I think of my dear friend each time I make it.
What are your favorite gifts to give? I'd love to hear some of your ideas!